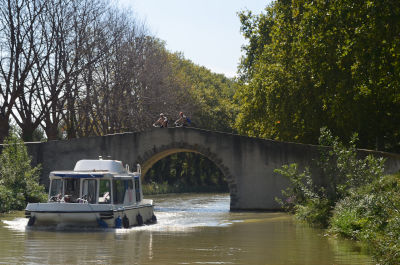 Throughout the centuries, humans have created wonders of engineering to suit their needs at points in time. Some examples include the Egyptian Pyramids, Roman Viaducts and of course magnificent cathedrals and churches, many of them built in France. When it comes to transportation, ingenuity is also evident and one great example is the Canal du Midi, which passes only 800m from the Residence. The Canal s one of Europe's longest and widest canal systems and in 1994 was designated a World Heritage Site.
Today, its slow-moving water provides the tourist with a rich source of beauty, relaxation and peace. These waters twist and turn through the countryside following the contours of the land and passing by acres of vineyards, fields and sunflowers and charming riverside settlements full of character and history.
Whether it is the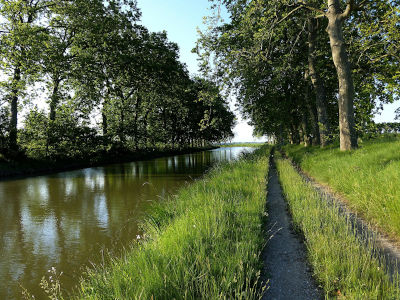 splendor of the beautiful Roman bridges built to a design devised thousands of years ago, the trees and plants which lie adjacent to the canal, or restaurants and cafes that are built on the banks of the canal, the cycling and walking tracks where horses previously pulled barges, the visitor will be exposed to a most magnificent vista. In these days of sustaining our precious environment, the Canal du Midi represents a great investment providing as it does a tranquil and restful environment for all who visit it. But whose legacy allows today's visitors and tourists enjoy this tranquil environment? The canal's beauty and splendor are due to Pierre-Paul Riquet (1604-1680) the engineer who conceived the idea in order to facilitate trade and the transport of goods particularly wine.
In 1667 the first stone was laid, and in October 1680 Paul Riquet died, a year before the official opening of the Royal Languedoc Canal. Its name was changed to Canal Du Midi following the Revolution. Over 15 years, almost 12,000 workers were involved in digging out the ditch with pick-axe and shovel, a 240 km route between Toulouse and Sete. Its banks were lined with 45,000 trees (to maintain the integrity of the canal banks) and 328 works of art. The construction of a new Canal between the Rhone and Sete in1829 and the Lateral Canal in the Garonne in 1856, created the final links between the Atlantic and the Mediterranean. Unfortunately, many of the original trees have had to be replaced due to disease.
Today, visitor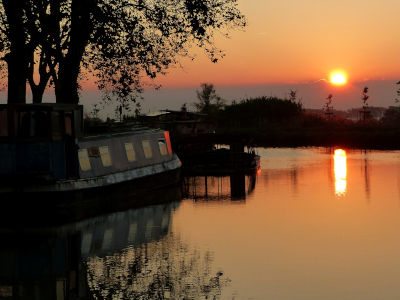 s can walk or cycle along the canal. Why not hire some bikes at Homps. (ph: 33 6 37 07 05 00) and cycle to Trebes, have a nice lunch with perhaps a glass of wine and then cycle back to Homps. Alternatively, take a stroll along the canal in the direction of Trebes and stop at the lock closest to the Residence: ecluse du Jouarres. There you can enjoy some light refreshments while watching the boats navigate the lock.
As evening approaches, and a day spent under a warm sun and Monet- blue sky concludes, the visitor can choose from many local canal-side restaurants in Homps to enjoy the local cuisine accompanied by a choice of first-class wines from the vineyards in the region. Afterwards, visitors can enjoy convivial conversation with friends while enjoying a coffee or digestif as the canal reflects the deep rays of the retreating sun, and the bell from the church at Homps counts the hours to the end of an idyllic day at the Canal du Midi